Printed Colours vs. Heat Pressed Colours
It is perfectly normal for a print from a sublimation printer to look different to the image on your computer screen.
This is because sublimation inks change colour during the sublimation heat pressing process.
As sublimation ink reacts when it is heated the ink will physically change colour.
The end result becomes brighter and more vibrant than the image printed on the sublimation paper.
It is always advisable to heat press the image on to a product to see the final result.
Below we have a produced a sublimation print on to an aluminium sheet using our Style LITE sublimation paper, Inktec Sublinova inks and Epson Ecotank ET2711 printer to demonstrate how the colours change between
Onscreen image – how the image looks on your computer screen; and how we would hope it to look on the final product.
Print produced by the printer – how the image looks after being printed on to sublimation paper.
Finished transfer on the metal sheet (or other substrate) – how the final image looks after being heat pressed.
Onscreen image:
Print on sublimation paper – BEFORE heat pressing:
Preparing and Heat Pressing sublimation print:
Print on final product – AFTER heat pressing: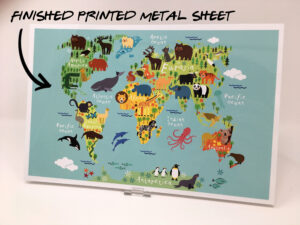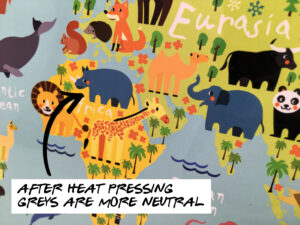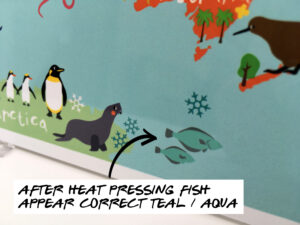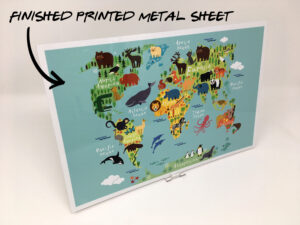 As mentioned above the printed image on sublimation paper (before being heat pressed) will in most cases look 'wrong' this is nothing to panic about. It is completely normal for the ink on paper before heat pressing to look incorrect.
Generally prints on sublimation paper appear more pale / washed out than onscreen image
Red colours will not appear paler – more orange
Grey colours will appear to have a purple cast
Teal / aqua colours will appear a light sky blue colour
Blue colours will appear darker – almost purple
Each image will differ depending on the colours it is created from but the above is an overview of what you can expect the sublimation print on paper to look like before heat pressing.
When the sublimation print is heat pressed on to the product or substrate a chemical reaction takes place (sublimation process) this reaction creates a change in the ink as it changes from a solid to a gas. During this reactive change the ink will shift in colour to become correct and match the onscreen image closely.