Why do we offer different sublimation papers?
Sadly, there is not a single sublimation paper that is perfect for every sublimation print job.
There are hundreds of different sublimation papers on the market each offering their own advantages and disadvantages.
Depending on the substrate (sublimation blank) being printed on to the sublimation paper being used can have a big effect.
Hard surface substrates such as ceramic or metal require a slower ink release to reduce the risk of over saturating the blank.
Over saturating can cause a blurred effect on the finished product.
On the other hand, soft surface substrates such as fabrics, PU leather, t-shirts, etc, require  more ink to be transferred.
This is to create a bright and vibrant transfer on porous materials that absorb a lot of ink..
High release sublimation papers are typically marketed for this purpose, and this purpose alone.
With this in mind, here at Ink Experts we offer a variety of sublimation papers within our range.
This ensures we have a paper to work with all substrates and to fit all budgets.
Below is a table showing the different specifications of each paper we supply along with a brief description.
Ink Experts Sublimation Paper Range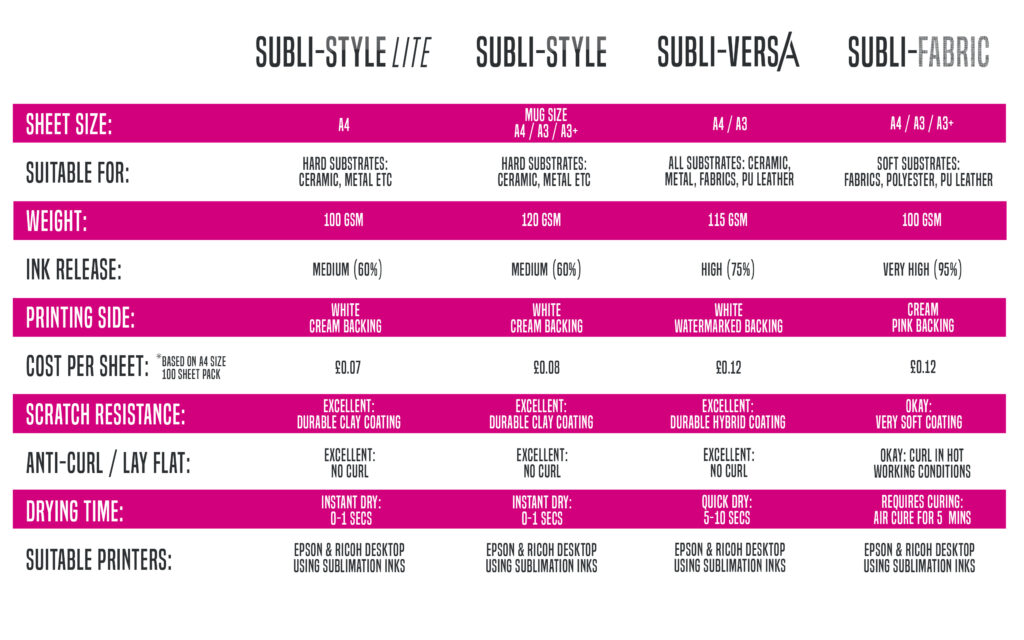 'Style LITE' Sublimation Paper
Our 'budget' sublimation paper.
Featuring a light weight 100gsm base for great flexibility. It also helps to keep the cost to a minimum.
Style LITE is the cheapest sublimation paper within our range.
Ideal for mug printing and high volume users, the slow release coating offers a crisp, sharp image transfer and good ink release on hard surface substrates.
'Style' Sublimation Paper
Our staple sublimation paper.
Similar to Style LITE, but using a slightly heavier 120gsm paper stock.
Style paper has been in our range from the very beginning.
It features the same coating as Style LITE, so is ideal for hard surface substrates such as metal, ceramic, acrylic and glass.
Transfers are bright, vibrant and crisp.
'Fabric HR' Sublimation Paper
Our high release sublimation paper.
As the name suggests this is intended for use on soft surface substrates and fabrics.
Fabric offers unrivalled ink release (over 95% release) resulting in superb transfer quality on polyester based / sublimation ready fabrics.
'Versa' Sublimation Paper
Our new versatile, all-purpose sublimation paper.
Versa features a hybrid coating which is both high release and quick drying, making it suitable for both hard and soft surface substrates.
Versa uses a medium weight 115gsm paper stock making it both flexible as well as offering superb lay-flat / anti curl properties.
The high ink release makes it suitable for fabrics and soft surface substrates, whilst the quick dry coating means it can also be used on hard surface substrates such as ceramic, metal and glass.