Setting up an Ink Experts Sublimation Printer is very straight forward.
Setup is much the same as any standard inkjet printer.
The steps below are what we recommend for simple and successful setup-
1. Unpack the Sublimation Printer Bundle
An Ink Experts sublimation printer bundle is typically supplied in the original Epson retail package / box.
Within the box will be the additional sublimation accessories supplied with the printer bundle.
Typically these are-
Epson Inkjet Printer (model will vary depending on the purchase)
Set of Inktec Sublinova Sublimation ink bottles (100ml of each colour required for the specific printer)
Set of 10ml syringes & blunt metal needles (Quantity will vary according to the number of inks supplied)
Sublimation Paper
Illustrated setup guide for installing the inks
Advised printer settings sheet
ICC profile email request sheet
Manufacturers drivers CD installation disc
UK specification power lead
USB connection lead (1.8m)
2. Install sublimation inks
Follow our Illustrated setup sheet to install the sublimation inks into your printer.
Typically Ink Experts supply Epson Ecotank printers so this involves using the supplied syringes and needles to transfer the sublimation ink from the ink bottles to the printer's ink tanks.
The printer will undertake an 'Ink Charge' process whereby the inks are pumped through the ink feed system inside the printer.
This typically takes 10 minutes to complete.
3. Install printer drivers
Installing the printer drivers is an important stage to setting up a sublimation printer.
It is very common for users to install a basic driver rather than the FULL or correct printer driver supplied by the printer manufacture.
When a basic printer driver is installed a number of important settings and options are unavailable or simply not present. This can lead to issues such as poor print quality, and the inability to use the ICC profile and printers colour management.
Ink Experts recommend to use either the supplied driver CD disc (included in the printer box).
Or
Download the driver from the manufacturer website from the following web address – https://www.epson.co.uk/support
To download a driver visit the link above.
Scroll down the page to see 'Find you model'
Begin to type the model number of your printer.
In this example we are searching for the Epson Ecotank ET-2750 so we have typed 'ET-2750'.
Select your model when it appears.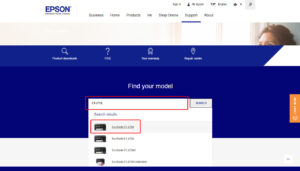 After selecting your model you will be redirected to the specific drivers and software page.
The Epson website should automatically detect your computers operating system (in our example Windows 10 64Bit).
Drivers will be displayed, click to select.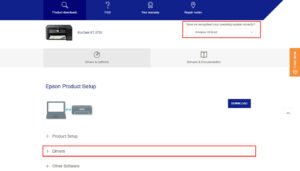 A list of drivers will show. Select the latest driver version for your model. This will download the full driver package for the specific printer.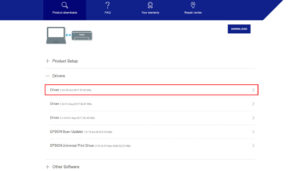 Checking if the drivers are the correct 'full' version is very easy. Visually they appear very differently.
Below is an example of an incorrect driver; typically this version appears if the driver has not been downloaded or the drivers CD disc has not been used. This version has very limited options.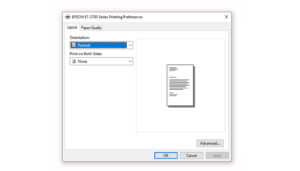 Below is an example of the correct driver; this version has all the required options needed for successful sublimation printing including; paper type, quality, mirror image option and colour management settings.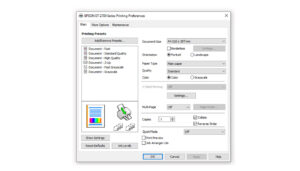 4. Connecting the printer to computer
Ink Experts recommend using a USB lead connection over WIFI / Wireless connection wherever possible. A high speed USB lead is provided with all Ink Experts sublimation printer bundles.
Our range includes printer that can use WIFI or USB and it is the clients choice as to which connection type they use.
Ink Experts recommend ISB lead connection for the following reasons-
Stability – USB offers a much more stable connection compared to WIFI or Wireless connections. WIFI signals can drop (even with the best of internet providers) and this can cause print jobs to stop or cancel during a print run.
Speed – USB offers improved data transfer and print speed over WIFI or Wireless connections. Data packets can stall or slow in transfer especially with large document sizes. This can lead to slower print speeds.
ICC & Colour Management – we have noted on some models and operating system combinations that the WIFI or Wireless driver can ignore or misuse the ICC profile or colour management settings being applied to the printer.
5. Request the Sublimation ICC Profile
Ink Experts provide all sublimation ICC profiles by email.
These can be requested by emailing sales@inkexperts.co.uk
For more information on ICC profiles and setup please see our ICC Profile FAQ page.
6. Apply correct settings for subliamtion printing
Applying the correct or advised printer settings is very important for successful and reliable printing.
Settings are applied to the printer driver via the computer prior to sending a print job. It is important that the advised settings are applied for the best results.
Sublimation printer setting vary depending on the sublimation paper being used.
All Ink Experts sublimation papers have advised settings on the back cover sheet of the packet.
Advised printer settings can be found here.
Typically the settings for sublimation printing are-
Paper type*: typically changed from Plain Paper to Epson Matte paper – this ensures a high print quality and also informs the printer it is uses a specialist printing paper.
Quality: typically changed from Standard to High – again this ensures a high print quality. Furthermore it allows the printer to apply more ink to the paper resulting in a better quality transfer.
Mirror Image**: this option 'flips' the printed image so it prints backwards. Once heat pressed to a product the image is reversed to become the 'correct' way around.
*Paper type selection can vary depending on the sublimation paper being used.
**Mirror Image selection is applied for most sublimation printing but for certain substrates such as glass it is not required.
7. Print Press Create
With all the above completed you are now ready to start printing, heat pressing and creating!
Ink Experts have a range of 'How to Press' guides on our website showing how to print and press on to a variety of sublimation blank products.
Our email support is on hand if you need any assistance and we are always happy to help where we can.